Hello there everyone, I am Learn2Eel from Imperator Guides and I welcome you to my latest Unit Overview series reviewing the ancient guardians of Lustria, the Lizardmen (and Lizardwomen?). This is an army with a lot of variety in play-styles, whether by relying on driving enemies back through masses of hardened Saurus, crushing them under the scales of titanic Stegadons or ambushing them with a thousand poisoned darts from a writhing swarm of Skinks. Even if you are a mighty Oldblood far removed from the mute inexperience of a new spawnling, I hope there is still something useful for you here in this series. Enjoy!
Core
Saurus Warriors
- These troops are notable because they some of few in the game that are natively Strength and Toughness 4; truly, these are the defining features of their profile and solidify their spot as a rugged combat block. However, these are in no way the equivalent of Chaos Warriors and anyone that tells you otherwise is kidding themselves. First off, Weapon Skill 3 is average for any unit and below average for a dedicated combat unit, and it relegates to unit to having average damage output at best unfortunately. Even with two Strength 4 attacks per model, these are outdone in terms of damage output by Dark Elf Black Guards who have a higher Weapon Skill and Initiative - in addition to many other advantages - that leave Saurus behind as a mediocre unit in terms of damage output. Predatory Fighter does give them some light boosts but the reality is that it will usually only lead to a few extra hits even with a sizable unit; remember that the extra attacks generated by Predatory Fighter only work for the front rank (from a purely rules-as-written interpretation) and they are at that lowly Weapon Skill 3 anyway. One also shouldn't forget that units can still only make one supporting attack, meaning only the front rank of Saurus units get their full two attacks per model. What absolutely kills this unit is their Initiative 1 and lack of Strength bonuses provided by weapon upgrades, leaving them at a decent but hardly special Strength 4. Being Initiative 1 means that any single Pit of Shades or Purple Sun of Xereus will kill 5/6 of a unit; if a template somehow hits every model in a unit (possible with the large blast marker) from a regiment of 40 Saurus, for example, then on average roughly thirty-four or thirty-three will be slain outright. This doesn't even begin to factor in that almost all combat units will not only strike before them but any unit with Always Strikes First - even Zombies, for heaven's sake! - will benefit from the re-rolls provided by having equivalent or higher Initiative as well.
This unit will take losses in combat before it can strike against almost any enemy, it is mediocre in terms of damage output and it usually doesn't stack up very well to proper dedicated melee units - unlike Skinks, they also share that average Movement 4 with most other infantry in the game. So what are Saurus actually good for, then? While Chaos Warriors with the Mark of either Nurgle or Tzeentch plus shields are pretty much the be-all end-all in terms of points-denying Core units, Saurus are significantly cheaper per model and are still quite difficult to shift. Each model is Toughness 4 with a 4+ armour save and 6+ parry save at just over ten points per model, making them among the tougher units in the game for the cost - at least before you factor in their Weapon Skill deficiency. That they are Leadership 8 with the Cold-Blooded special rule means they are incredibly unlikely to run away unless they are either subject to a Leadership-reduction spell or have actually managed to lose their Steadfast bonus. When you consider how difficult a sizable unit of Saurus Warriors is to shift - especially when provided Stubborn by either Gor-Rok or a character with the Crown of Command - losing their Steadfast bonus won't happen too often at all, and rolling 3D6 discarding the lowest dice on Leadership 8 gives them an incredibly small chance to run away. Of course, Saurus are a perfect recipient of augment spells, particularly from the Lore of Light; while Hand of Glory from High Magic will solve the issue of their low Weapon Skill, providing them with the Speed of Light or Birona's Timewarp (in conjunction with High Magic) will turn them into super-efficient combat units. The reality is that Saurus just aren't that great in a meta about maximising damage output to deal with all the rampant death-stars and monstrous cavalry going around, though they are at least a solid combat block built around its good survivability when weighed up against the points investment.
Competitive?
Yes.
Skink Cohort
- These really aren't as efficient as they could be, especially once you start looking at the truly terrible Undead Core units in the Vampire Counts and Tomb Kings army books. Skeleton Warriors armed with hand weapons and shields are a far more attractive unit than a Skink Cohort at an equivalent price, despite being most assuredly a poor unit themselves compared to the Core regiments of other armies. The idea behind a Skink Cohort is to provide you, as a Lizardmen General, with a cheap tarpit or throw-away unit with models so inexpensive per-model that you could care less if they die or not. However, any unit that is Toughness 2 with a 5+ armour save and 6+ parry save as its only defences - especially when it is Weapon Skill 2 - will just drop like flies far too quickly against anything, even other Strength 3 Core; god forbid what Elven Spearmen of all things will do to Skinks in close combat. Their damage output with that aforementioned Weapon Skill 2 and Strength 3 is pathetic and equivalent to Skeletons, where their higher Initiative 4 is outdone by the latter unit causing Fear. It doesn't help that even with Cold-Blooded the unit is very likely to fail the first Leadership test it takes with a ridiculously low Leadership 5; who cares if you have a big Steadfast block if it sheds models by the dozen and will fail more Leadership tests than it passes? When your unit doesn't compare well to an Undead Skeleton Warrior unit - remembering that Skeletons are built around being resurrected and have easily accessed buff spells - it may as well be useless as anything but a cheap bunker unit.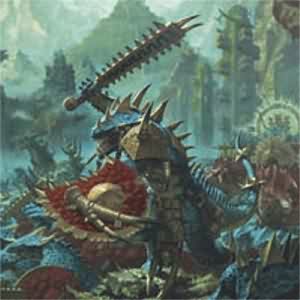 Being Movement 6 with light shooting attacks in the form of lustrian javelins does give them some nice little added value but ultimately I'm just not sold on those elements when Skink Skirmishers provide them in a far better package that is actually good at what it sets out to do. But hey, you can add Kroxigor to the unit; you know, those Monstrous Infantry models that have three Strength 7 attacks each and have the survivability to match a well-armoured Ogre. My response is this; who cares? The rules for adding Kroxigor to a Skink unit have been changed quite badly with the unit no longer being treated as "Unique", making it vulnerable to Stomps, Thunderstomps and other certain spell effects. Seeing as enemies can choose to target the Kroxigor if they are in base contact with a Skink, this does mean only the front rank of a unit can attack the Kroxigor specifically which I guess gives them some minor defensive boost when compared to being by themselves, but having to pay at least one hundred to one hundred and fifty points to have enough models as a buffer makes it a bad trade overall. Kroxigor with their mediocre Weapon Skill and three attacks each also cannot make up for the sheer rate at which Skinks bleed combat resolution; being Toughness 2 models with pathetic Weapon Skill and saving throws ensures that this unit will almost always lose combat unless it faces something along the lines of a Zombie horde. The problem here is that you are almost always better off with a Saurus unit if you want a proper combat block, while Skink Skirmishers perform the role of Core chaff in a way Skink Cohorts cannot emulate. Additionally, Kroxigor are better off by themselves in the Special slot where they don't need to inflate the cost of the unit to add some truly pathetic would-be ablative wounds. Skink Cohorts aren't necessarily terrible units but there is very little reason to ever use them, I feel.
Competitive?
No.
Skink Skirmishers
- While the profile might be identical to the above unit and many of the same issues still apply, Skink Skirmishers are an entirely different entity to Skink Cohorts altogether. While other armies could care less for the fortunes of Skink Cohorts, anyone with even a basic grasp of the importance of the movement phase in Warhammer Fantasy can tell you they were waiting with baited breath for any changes to these and the Special Chameleon Skinks. There is almost no competitive army in the game that can get away without chaff of some kind and Skink Skirmishers may as well be the bees' knees in this regard, being a Core chaff unit that possesses almost all the special rules and equipment you could possibly hope for. If your opponent hasn't faced against them yet, then be sure not to warn them as these (and particularly Chameleon Skinks) will put the fear of Sotek into any war machine crews or monsters you face. The profile is about as unimpressive as it could be for a unit of its cost per model, but when you remember that these are Ballistic Skill 3 Skirmishers that are Movement 6, the only actual stats you care for stand high and strong. Just forget about combat; Weapon Skill 2 and Toughness 2 with virtually no armour means they should never get into a melee, no matter how you buff them - but then, why would you waste spells on a cheap Skirmisher unit aside from raising their Ballistic Skill with Hand of Glory?
The reason these are so good is that they are Movement 6 and can march and shoot with their Poisoned ranged weapons; for these kinds of units, the fragility and combat prowess are entirely unimportant. Once ten of these get into range of your typical three-wound war machine, they will pretty much make their points back; that they can march 12" and still shoot means they have all they need to be a constant thorn in your opponents' side. If you stick with blowpipes, a unit of ten will fire twenty Poisoned shots from 12" away; if they move but are in short range - or don't move and are at long range - they will need 6s to hit, but each 6 wounds automatically as it is Poisoned. This means that your basic unit of ten will average three Poisoned hits, equalling a dead war machine if it is your typical kind with just three wounds. If you fire against a monster with weak armour saves such as a Tomb Kings Khemrian Warsphinx, you are likely to take off two wounds at a time per shooting attack. For a unit that is so ungodly cheap, they absolutely devastate war machines and monsters, while being your usual mobile chaff unit that fits perfectly because it is a Core choice. As for the choice of blowpipes versus a lustrian javelin and shield, the former will be virtually useless by needing 6s and 4s (negating Poisoned shooting) if the wielders move and are at long range, though once they start needing just 6s they are easily the best shooting weapon on average. The javelins are inefficient as a shooting weapon compared to the blowpipes but some might say giving the Skinks a 5+ armour save - and a 6+ parry save in combat - as well as being able to Stand and Shoot regardless of enemy proximity is worth the trade-off. As the javelins share their Strength with that of the Skinks, you can buff them with Wyssans' Wildform, though using it on Skirmishers that rarely hit may as well be a waste of time. My personal experience says that the slight boost to defensive capabilities aren't really worth it given how often the unit will be fleeing - especially with Leadership 5 - and they should never be in combat voluntarily anyway, while the blowpipes are statistically likely to kill a single war machine per turn provided they need 6s to hit and not 6s and 4s.
Competitive?
Yes.
Thank you all for reading this entry in my Lizardmen Unit Overview series! This set of mini-reviews is intended to act as a brief introduction to each unit and army special rule in the Lizardmen army book, providing some insights into how they function competitively without going into nearly as much length as my proper Tactica articles. Even if you aren't a fan of Lizardmen, I hope you can find something useful from this series for use in your games either employing or fighting against the warriors of Lustria! Don't forget to have a nice day and please leave any feedback you have in the comments section below - all critiques are appreciated!